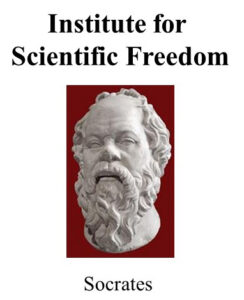 Socrates (c. 470–399 BC) was a Greek philosopher who is credited as the founder of Western philosophy. Socrates and his interlocutors examined a subject in the style of questions and answers. In 399 BC, he was accused of impiety and corrupting the youth. After a trial that lasted a day, he was sentenced to death. He spent his last day in prison, refusing offers to help him escape. We are indebted to Socrates. Even today, people are executed for asking questions. The Institute for Scientific Freedom works to preserve honesty and integrity in science and to help develop a better healthcare where more people will benefit; fewer will be harmed; and more will live longer in good health.
Mission statement
The Institute has three visions:
All science should strive to be free from financial conflicts of interest.
All science should be published as soon as possible, and made freely accessible.
All scientific data, including study protocols, should be freely accessible, allowing others to do their own analyses.
The Institute's primary area of work is healthcare.
---
Institute for Scientific Freedom, opening symposium 9 March 2019
Scientific freedom is under constant pressure. We therefore opened an Institute for Scientific Freedom on 9 March 2019 in Copenhagen in connection with an international symposium, with experienced speakers from USA, Europe and Australia.
Videos of the presentations at the symposium can be found here.
---