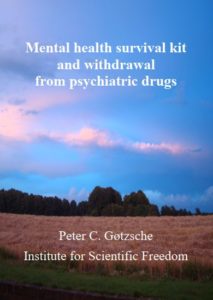 Mental health survival kit and withdrawal from psychiatric drugs (2020)
This book will help people with mental health issues survive and come back to a normal life. The general public believes that drugs against depression and psychosis and admission to a psychiatric ward are more often harmful than beneficial, and this is also what the science shows. Even so, most people continue taking psychiatric drugs for many years. This is mainly because they have developed drug dependence. The psychiatrists and other doctors have made hundreds of millions of people dependent on psychiatric drugs and yet have done virtually nothing to find out how to help them come off them safely again, which can be very difficult. The book explains in detail how harmful psychiatric drugs are and tells people how they can withdraw safely from them. It also advises about how people with mental health issues may avoid becoming psychiatric "career" patients and lose 10 or 15 years of their life to psychiatry.
Pdf edition (214 pages): DKK150 (about €20). See Contents here.
Please either:
1) wire DKK150 using IBAN Account number DK5867710005437934 with swiftcode LAPNDKK1 (Laegernes Bank). Write your email address in the message field. If needed, the account holder is: Peter Gøtzsche, bank address: Dirch Passers Allé 76, DK-2000 Frederiksberg, or
2) go to my GoFundMe account, donate DKK150 and write to me via this homepage and give me your email address.
The book has also appeared in Danish (see just below), and will appear in Dutch, French, German, Greek, Icelandic, Portuguese, Spanish and Swedish.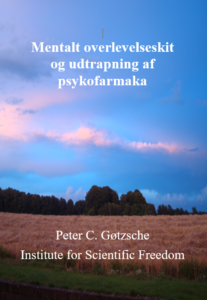 Mentalt overlevelseskit og udtrapning af psykofarmaka (2020)
Denne bog kan hjælpe mennesker med psykiske problemer med at overleve og vende tilbage til et normalt liv. Borgerne mener, at medicin mod depression og psykose og indlæggelse på en psykiatrisk afdeling oftere er skadelig end gavnlig, og det er også det, videnskaben viser. Alligevel fortsætter de fleste patienter med at tage psykofarmaka i mange år. Det skyldes hovedsagelig, at de har udviklet medicinafhængighed. Psykiatere og andre læger har gjort hundreder af millioner af mennesker afhængige af psykofarmaka og har alligevel stort set intet gjort for at finde ud af, hvordan de kan hjælpe dem med at trappe sikkert ud igen, hvilket kan være meget vanskeligt. Bogen forklarer i detaljer, hvor skadelige psykofarmaka er, og fortæller, hvordan man kan stoppe med at bruge dem. Den giver også råd om, hvordan mennesker med psykiske problemer kan undgå at blive psykiatriske "karrierepatienter" og miste 10 eller 15 år af deres liv til psykiatrien.
Pdf-udgave (217 sider): 150 kr. Se Indholdsfortegnelsen her.
Køb af bogen: Overfør 150 kr. (inkl. moms) til Institute for Scientific Freedom, konto 67715437934 (Lægernes Bank), og skriv din e-mail adresse i notefeltet. Da der måske ikke er plads til hele adressen, så send også en email til pcg@scientificfreedom.dk
Jeg skrev bogen på engelsk og oversatte den til dansk. Den udkommer også på islandsk, græsk, hollandsk, portugisisk, spansk, svensk og tysk.
Updated 22 July 2020